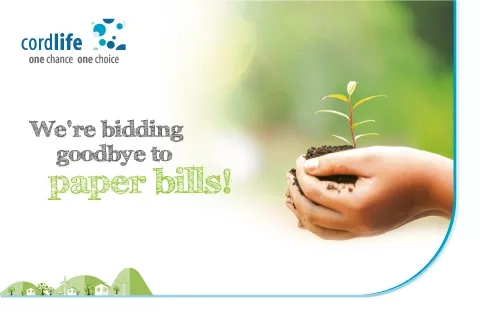 E-invoice
Dear Cordlife Parent,
We are bidding goodbye to paper bills!
Starting from January 2020, we will be sending all our invoices via email as part of our commitment towards environmental conservation, while ensuring that your data remains safe and secure.
Convenience For You
With electronic statements, you can now stay free from paper clutter and have greater accessibility to your bills.
You can also make payments online by clicking here and other convenient payment methods we have prepared for you.
Has there been a change in your personal details?
We will be sending all invoices to the primary email address that was registered to your account.
Kindly take a moment to provide us with your latest email address by simply clicking on the button below! This will allow us to contact you and ensure that you do not miss out on any emails from us.
For any further queries, please contact us at 6238 0808 or email us at customercare@cordlife.com.
Thank you once again for entrusting your child's precious umbilical cord stem cells with Cordlife.