Why Cordlife
Singapore's first FACT-Netcord and AABB accredited cord blood bank with a successful transplant track record
Technology and Quality Pioneer
Sepax®2 Maximises Cell Recovery to Increase Transplant Success
First in Singapore
Automated Stem Cell Processing System
The Standard in Cord Blood Banking
Stem cell isolation is a critical step in cord blood banking. It affects the number of stem cells that can be harvested or recovered from the cord blood. Cell recovery rates are critical because a higher number of stem cells could enhance the success of the transplant or treatment. That's why Cordlife has invested in the Sepax®2 automated stem cell processing technology, a safe, sterile and fully automated cord blood processing technology - so you get more stem cells for maximum transplant success*.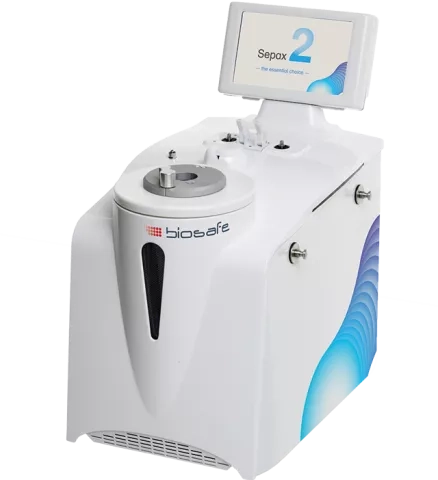 Sepax®2 versus other processing methods
Cordlife is the first private cord blood bank in Singapore to offer the Sepax®2 automated processing technology. This Swiss-made and U.S. FDA-cleared device can recover as high as 99.88%1 of Total Nucleated Cells (TNC) from cord blood. It also a functionally closed processing system which ensures the sterility of the cord blood by eliminating exposure to air contaminants.
Features of Sepax® 2 and what it means to You, as a Parent
Feature
Benefits to You
Swiss Quality

Swiss-made patented automated cord blood processing system.
Advanced technology with new protocols.

We process your baby's cord blood with high Swiss precision, reliable, state-of-the-art technology.

Fully Automated

Requires no external centrifuge or operator intervention during processing.
Controlled, smooth and precise cell separation by an advanced optical sensor.

The yield from cord blood processing is consistent, with reproducible high results (that is, cell recoveries).

Cell Recovery

Able to achieve as high as 99.88%1 Total Nucleated Cells (TNC) recovery rate.

More cells are recovered / harvested from your baby's cord blood for future treatment (if needed), allowing better chance of a successful transplant.

Safety

Closed processing system.
Every baby's cord blood unit is fully monitored and traceable throughout each procedure
Possesses a troubleshooting system. Even in cases of power failure, all cord blood units can be processed without having errors.

Processing of your baby's cord blood unit is safe and highly sterile, leaving zero opportunity for error.

Unique

The only cord blood processing technology that processes one cord blood unit at a time.
Sepax®2 is calibrated and tested before every procedure, treating every cord blood unit like its first one.
Uniquely adapted to the qualities of each and every baby's stem cells, customizing every process accordingly.

Prevent any sample mix-up and eliminates any possible cross-contamination of your baby's precious cord blood unit.

Regulatory Approvals

Cleared by U.S. FDA, approved by European Union (evidenced by CE Mark), and Japan MHLW (Ministry of Health and Labor Welfare)
Complies with the highest quality standards such as AABB & FACT-Netcord3

Meets international health, safety and environmental requirements to ensure consumer safety.

Statistics/Evidence

An advanced cord blood processing technology with proven transplant track record.
World's most tried and trusted automated system.
Over 1 million cord blood units2 have been processed by the Sepax® System in over 50 countries, this is almost half of the worldwide processing procedures for cord blood inventory.
Trusted by majority of the world's leading public and private cord blood banks.
The Sepax® system has been chosen by over 75% of the Netcord organizations that group the leading public cord blood banks around the world.

Proven technology, equipment and consumables that are used by industry leader - the true validation on the quality of the Sepax® automated processing technology.

First Bank

Cordlife is the first private cord blood bank in Singapore to offer automated cord blood processing with Sepax®2.

Our investment in advance technology now and in the future means you and your family will benefit from any future technology upgrade for the long-term storage of your baby's stem cells.
References
1. Cordlife's actual data as of 6 September 2017
2. Biosafe, manufacturer of Sepax® (figures accurate as of 31 March 2013)
*Kindly note that the above mentioned is general information only. Please refer to the Cordlife Service Agreement for full details and its terms and conditions. Cordlife Group Limited reserves the rights to amend or cancel any of the benefits listed above without prior notice. International quality standards may differ between the time of enrolment and time of release of your baby's cord blood unit for transplant. All reasonable efforts will be made to adhere to the prevailing standards at the time of release of your baby's cord blood unit. HLA testing and CFU Assay may or may not cease to become a mandatory quality check.Cordlife has taken added insurance coverage, to safeguard you and your family from financial loss that results from direct malpractice*.
Smart-Max™
Maximizing the recovery of Total Nucleated Cells (TNC) from your child's precious cord blood is one part of the equation. The next crucial step is ensuring that the cells are carefully prepared for cryopreservation so that they can be stored indefinitely while retaining its viability for treatment purposes.
Cordlife is the first family cord blood bank in Singapore to adopt the Smart-Max™ technology - a fully automated cryoprotectant infuser, mixer and cooling device that allows for the consistent preparation of stem cells for cryopreservation. Unlike other devices that require manual handling, this Swiss-made device has high precision and is the epitome of reliability and quality.
The razor sharp precision of Smart-Max™ injects cryoprotectant at a constant and pre-defined temperature without any deviation in protocol. This mixes the cryoprotectant homogeneously with the stem cells without the need for human interference, thus averting any chance of human error. This ensures that the quality of the stem cells is maintained as they are placed into the liquid nitrogen storage systems at below -150°C.
With this implementation of Smart-Max™, Cordlife's cord blood processing is now fully automated from receipt to storage, therefore ensuring that your child's cord blood is well protected.
| Feature | Benefits to You |
| --- | --- |
| Closed System | Guarantees that the cord blood is sterile and safe from external contaminants and bacteria. |
| Fully automated processing | Conducts the processing in a reproducible system, therefore ensuring consistent and high quality blood treatment. |
| All-in-one | Every procedure performed by Smart-Max™ is monitored by one programme, thus enabling a consistent level of protection at every step of processing. |
| User-friendly interface | Hands-free and simple to handle, thus minimizing the margin of any human error in processing. |
| Enhanced traceability features | Specific storage and data transfer functions ensure complete traceability of each unit. |
DCR No. 3465, March 2018