Which Singapore maternity hospital should I choose?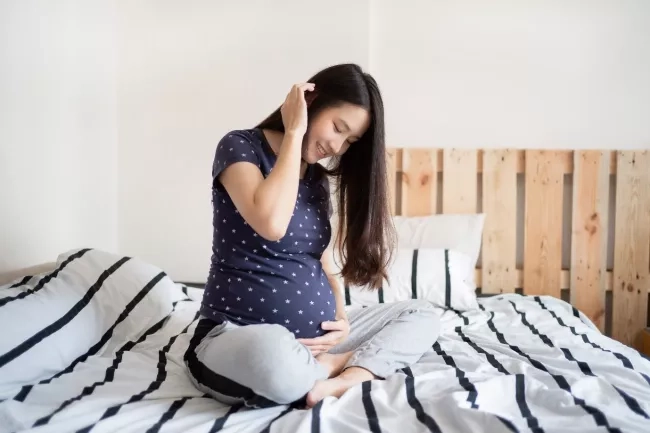 You will make plenty of decisions during pregnancy, and choosing where to deliver your baby is one of the most important ones to make. Most obstetricians are usually affiliated with one or more maternity hospitals, so it helps you narrow down your choices by asking your doctor which hospital they are affiliated with. 
To make the best and most informed decision on which hospital to deliver, you can sign up for hospital tours to find out more about their amenities and services. As a guide, we have provided you with a summary of the private maternity hospitals in Singapore. 
Gleneagles Hospital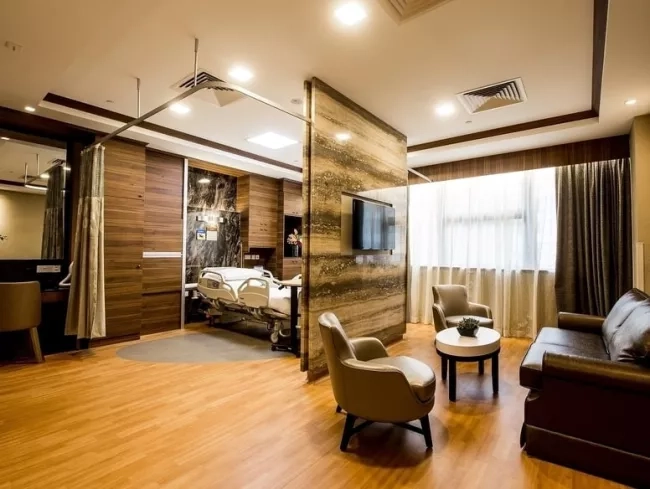 Gleneagle's packages start from $2,714 (two nights, normal delivery, GST inclusive) for a 2-bedded room. With their single-room packages (from $3,924 including GST), you can celebrate this joyous milestone with your loved ones with a celebratory tea set for 6. Daddies are also taken care of with meals and lodging during the hospital stay. Included within this value-for-money package are comprehensive newborn screenings and a personalised lactation consultation. They offer parking or a limousine service upon discharge as well. Gleneagles hospital is certified under the baby friendly hospital initiative (BFHI) to provide support to mothers in breastfeeding
The most luxurious room is the Dempsey suite, as pictured above. You can expect butler services, a customised VIP menu and additional offerings such as a romantic dinner for 2. The package for this suite starts at $10,024 (two nights, normal delivery, GST inclusive). For ease of mind, mommies can also look forward to a personalised breastfeeding coaching session with a professional lactation consultant and customisation of their confinement menu! 
To find out more about Gleneagles' maternity services and to take a virtual tour, visit www.gleneagles.com.sg/maternity.
Mount Elizabeth Novena Hospital (MENH)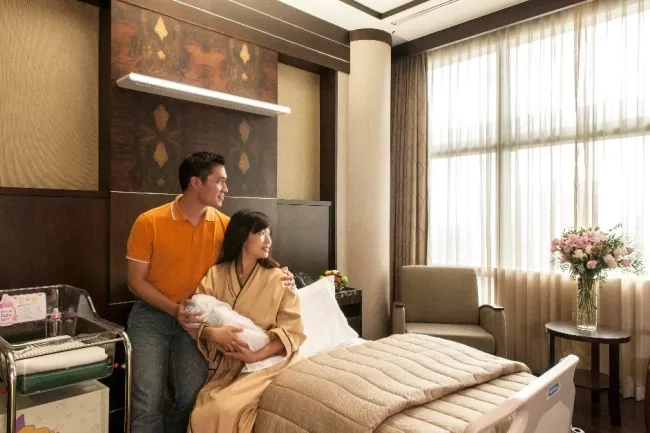 After all the hustle and bustle, some mommies-to-be might want to welcome your little one in comfort and privacy. MENH is the only all-single-room hospital in Singapore and is also BFHI-certified. You will be welcomed with a mini bar, free wifi, and a 46-inch LED TV with an in-room entertainment system that includes a Parentcraft channel that screens breastfeeding education videos. MENH ensures that all of your needs are met, including meals and lodging for your accompanying family member. Their packages start at $4,062 (two nights, normal delivery) for single rooms, which includes a newborn hearing test and free parking for one vehicle during the package length of stay.
Mommies-to-be who are considering an upgrade to the junior suite can expect personalised breastfeeding coaching and a personalised newborn bath demonstration conducted by their experienced lactation consultant. MENH's junior suite is priced from $9,393 for three nights for a normal delivery, which comes with an adjoining living room and an outdoor terrace and includes parking for two vehicles.
To find out more about Mount Elizabeth Novena's maternity services and to take a virtual tour of the rooms, visit www.beststartinlife.sg.
Mount Elizabeth Hospital (MEH)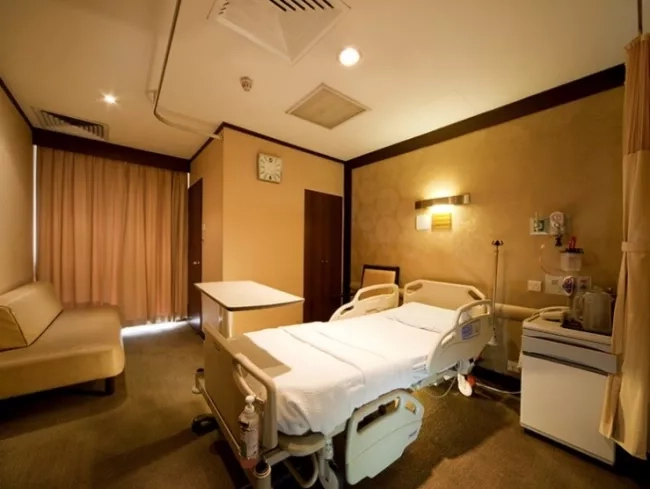 All maternity packages at MEH include customised confinement menus, a baby care and breastfeeding class, newborn health screening, hearing test, wifi, and parking for one vehicle during the package length of stay. For a regular single room, packages start at $3,970 (two nights, normal delivery, inclusive of GST). There is also two-bedded room option starting at $2,996 (two nights, normal delivery, inclusive of GST).
For a more lavish stay, the Daffodil and Magnolia Suites are specially designed to provide a luxurious setting that includes a spacious guest lounge to enjoy the delights of birth with your family and friends. The suites come with a butler, a personalised baby care and breastfeeding lesson, a limousine service upon discharge, and a baby metabolic screen and bilirubin test. Mommies can also enjoy a head-and-shoulder massage, a pampering hair spa, a manicure or pedicure while partners enjoy lodging and meals. 
Parents can request a romantic dinner for two or mocktails for up to six guests to celebrate the birth of their child. The packages for one of these suites start at $12,741 (three nights, normal delivery, inclusive of GST).
To find out more about Mount Elizabeth's maternity services and to take a virtual tour of the rooms, visit www.mountematernity.sg or call 6250-0000. 
Parkway East Hospital (PEH)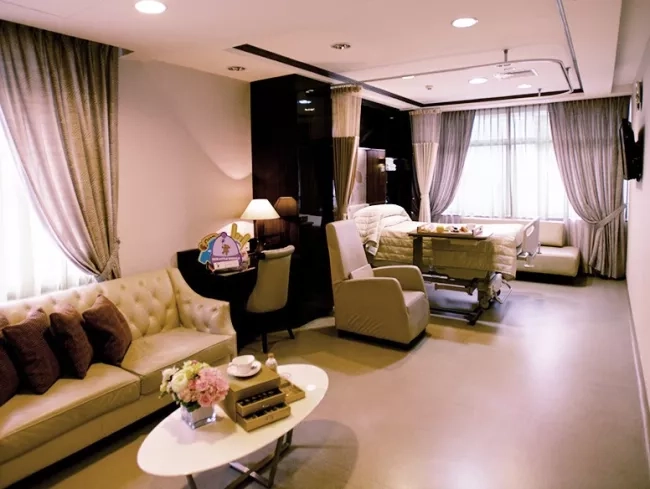 At PEH, they try to give nursing care in a warm, supportive environment to women who are expecting. Apart from providing newborns with a comprehensive health screening, from blood screening to their first dose of vaccination, PEH also ensures that mothers get a supportive environment by offering complimentary Parentcraft classes to help you pick up nutrition tips for breastfeeding and advice on maternity confinement. Mothers also get a diaper bag with gifts and things they and their babies will need. Being BFHI-certified, PEH has lactation consultants to visit mothers to help them with breastfeeding.  
Their packages for the single room start at $3,883 (two nights, normal delivery). Mothers will be served with a personalised postnatal confinement menu and fathers can select their meals from their wide range of choices!
To find out more about Parkway East's maternity services, visit www.parkwayeast.com.sg.
Thomson Medical Centre (TMC)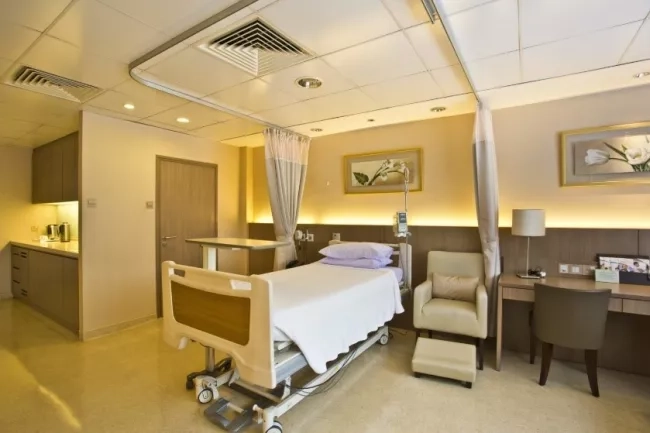 If you're looking for peace and space, the rooms at Thomson Medical Centre are designed to look like a contemporary resort setting with an understated luxury and spaciousness. The Thomson Family Suite comes with a dedicated team of staff, a separate living room area, free wifi, a mini fridge with a beverage corner, and daily newspapers. 
The packages for a single single-bedded room start at $4,039.25* (two nights, normal delivery, inclusive of GST). There are also two- and four-bedded room options starting at $2,785.21* and $2,469.56*, respectively (two nights, normal delivery, inclusive of GST). 
Find out more about the hospital tours at  www.thomsonmedical.com or call 6358-0055 or 6350-8876. TMC's diagnostics centre (TDUC) is located at Novena Medical Centre. When maternity tours resume after the COVID-19 situation, they are held Mondays to Fridays at 1pm, 2pm and 3pm, and Saturdays at 11am and noon. 
*These rates are published from June 2020.
The best way to clear up any doubts you may have is to find out more with the help of the person in charge of the hospital tour. Cordlife is also located at MENH, PEH, and TDUC (TMC's diagnostic centre located at Novena Medical Centre). Drop by our consultation booths to find out more about how you can protect and safeguard your family's health for a lifetime!