Why Cordlife
Singapore's first FACT-Netcord and AABB accredited cord blood bank with a successful transplant track record
Why is Accreditation Important?
When it comes to safeguarding your baby's health, there can be no compromise.
Cordlife Singapore is proud to be accredited by AABB since 2005 and by FACT-Netcord since 2015.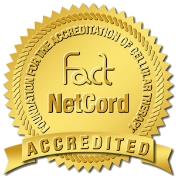 One of the first steps expectant parents should take before deciding which family cord blood bank to store their baby's precious umbilical cord stem cells with is to verify that the company is accredited by a globally renowned accrediting agency in the industry. Accreditation is important as it helps expectant parents, hospitals, and transplant physicians determine whether the company meets or exceeds minimum standards of quality.
AABB and FACT Netcord are two symbols of quality that are internationally recognised when it comes to cord blood banking. Many countries and hospitals around the world are using these accreditations as yardsticks to affirm that the cord blood unit will be collected, tested, processed, and stored according to the highest standards of quality before accepting the unit for transplant or infusion.
Families who store their baby's cord blood unit with a non-accredited cord blood bank may find themselves at risk of having the cord blood unit rejected for use. While some of these cord blood banks may offer a lower enrolment fee, they may not be performing all the necessary clinical tests, which could render the cord blood unit unsuitable for transplantation should the need to use it ever arise.
When you store your baby's cord blood, you want the unit to be accepted for use when your family needs it the most – to save a life or improve your loved one's quality of life. This is why it's very important to choose an accredited family cord blood bank, as accreditations are testament to the fact that the company has been assessed by independent peer experts for having the competence, reliability, operational performance, and quality management to ensure patient safety and quality of care.
Cord blood is your family's gift of a lifetime. Only leave it in the hands of the experts.