Carnation Footcare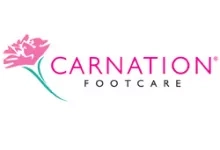 Requested in over 40 countries such as UK, USA and even South Africa and Iran, Carnation Footcare is a trusted footcare brand in the United Kingdom's feet for over 100 years and has solutions to almost any foot problem.
Out of sight is not out of mind for a mom-to-be and her feet. You may not be able to see your feet, but you can't ignore them. Pain and swelling are common complaints, but today's busy pregnant woman can't often put her feet up for a rest. Take care of your feet with Carnation Footcare, your trusted footcare expert.
Offer Details
40% Discount for Cordlife Circle Members
Offer Period
Current to 31 December 2023
Contact
Address: 280 Woodlands Industrial Park E5 #10-53 Harvest@Woodlands S(757322)
Website: www.okeanostrading.com
Phone Number: +65 6734 352
Opening hours: 10:30am to 7:00pm
Terms and Conditions
Discount must not be used in conjunction with any other discounts, coupons or promotional vouchers.
Discount is applicable to Cordlife Circle Card holders only and Cordlife Circle Card must be presented at point of payment.
Management reserves the right to amend the above without prior notice.